Reader Collection > Guides > Guide to Japanese Woodblock Prints of Flowers and Birds > Flowers and Birds > Flower Families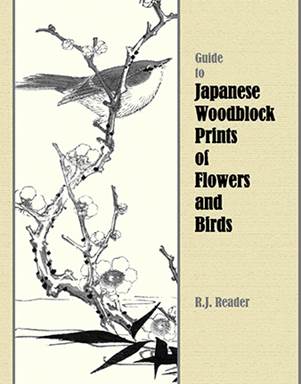 Published by the Reader Collection, Ontario Canada, 2014,
ISBN 978-0-9937035-0-8
Chapter 2 – Flowers and Birds
2.4   Flower Species' Descriptions
Species are arranged below by scientific Family name. If you know a species' common name but not its scientific Family name click here to go to Appendix 3 where species are listed alphabetically by common name. Clicking on the species' Family name takes you directly to that Family. For a species chosen by more than 1 artist, click on its picture to see additional examples.
Acer palmatum

Japanese maple

Momiji

モミジ

もみじ

紅葉,楓

●   Japanese native

●   ornamental

●   symbol of spring, fall

●   chosen by 18 artists
Acorus gramineus

Grass-leaf sweet-flag

Sekishō

セキショウ

せきしょう

石菖

●   Japanese native

●   food, ornamental

●   chosen by 2 artists
Actinidia polygama

Silvervine

Matatabi

マタタビ

またたび

木天蓼

●   Japanese native

●   ornamental

●   chosen by 1 artist
Sagittaria trifolia

Chinese arrowhead

Omodaka

オモダカ

おもだか

野茨菰,澤瀉

●   Japanese native

●   chosen by 30 artists
Amaranthus tricolor

Chinese amaranth

Hageitō

ハゲイトウ

はげいとう

葉鶏頭,雁来黄,

雁来紅, 老少年

●   Asian exotic

●   ornamental

●   chosen by 18 artists
Celosia cristata

Cockscomb

Keitō

ケイトウ

けいとう

鶏頭,雞冠

●   Asian exotic

●   ornamental

●   symbol of fall

●   chosen by 14 artists
Gomphrena globosa

Globe amaranth

Sennichikō

センニチコウ

せんにちこう

千日紅

●   American exotic

●   ornamental

●   chosen by 3 artists
Lycoris radiata

Red spider-lily

Higanbana

ヒガンバナ

ひがんばな

彼岸花

●   Japanese native

●   ornamental

●   chosen by 1 artist
Narcissus jonquilla

Jonquil

Kisuisen

キズイセン

きずいせん

黄水仙, 長壽花

●   European exotic

●   ornamental

●   symbol of spring

●   chosen by 4 artists
Narcissus tazetta

Bunchflower daffodil

Zuisen

スイセン

ずいせん

水仙

●   European exotic

●   ornamental

●   symbol of spring, winter,

new year, happiness,

prosperity, immortality

●   chosen by 55 artists
Rhus succedanea

Japanese wax tree

Haze

ハゼ

はぜ

櫨

●   Japanese native

●   source of wax

●   chosen by 1 artist
Tilingia ajanensis

False snowparsley

Shiraneninjin

シラネニンジン

しらねにんじん

白根人参

●   Japanese native

●   chosen by 1 artist
Amsonia elliptica

Chōjisō

チョウジソウ

ちょうじそう

丁字草

●   Japanese native

●   chosen by 2 artists
Nerium indicum

Oleander

Kyōchikutō

キョウチクトウ

きょうちくとう

夾竹桃,挾竹桃,狹竹棠

●   Asian exotic

●   ornamental

●   symbol of summer

●   chosen by 11 artists
Ilex micrococca

Tamamizuki

タマミズキ

たまみずき

玉水木

●   Japanese native  

●   ornamental

●   chosen by 1 artist
Ilex serrata

Japanese winterberry

Umemodoki

ウメモドキ

うめもどき

梅擬,落霜紅,賽珮瑚

●   Japanese native

●   ornamental

●   symbol of fall

●   chosen by 7 artists
Arisaema serratum

Cobra lily

Tennenshau

テンナンシャウ

てんなんしゃう

天南星

●   Japanese native

●   ornamental

●   chosen by 1 artist
Lysichiton camtschatcensis

Asian skunk-cabbage

Mizubashō

ミズバショウ

みずばしょう

水芭蕉

●   Japanese native

●   symbol of summer

●   chosen by 1 artist
Fatsia japonica 

Fatsia

Yatsude

ヤツデ

やつで

八角金盤

●   Japanese native

●   ornamental

●   symbol of winter

●   chosen by 1 artist
Aster sp. 

Aster

Nogiku

ノギク

のぎく

野菊

●   Japanese native

●   symbol of fall

●   chosen by 65 artists
Calendula officinalis

Pot marigold

Kinsenka

キンセンカ

きんせんか

金線花,金盏花

●   European exotic

●   ornamental

●   symbol of spring

●   chosen by 7 artists
Carthamus tinctorius

Safflower

Suetsumuhana

スエツムハナ

すえつむはな

末摘花

●   Asian exotic

●   ornamental, food

●   symbol of summer

●   chosen by 2 artists
Centaurea cyanus

Bachelor's button

Yagurumagiku

ヤグルマギク

やぐるまぎく

矢車菊

●   European exotic

●   ornamental

●   chosen by 4 artists
Chrysanthemum coronarium

Crown daisy

Shungiku

シュンギク

しゅんぎく

春菊

●   European exotic

●   food

●    chosen by 3 artists 
Chrysanthemum grandiflorum

Florist's chrysanthemum

Kiku

キク

きく

菊

●   Asian exotic

●   ornamental, medicine

●   symbol of fall,  power, longevity, delicacy, happiness, courage, honor, purity

●   chosen by 131 artists
Chrysanthemum indicum

Indian chrysanthemum

Shimakangiku

シマカンギク

しまかんぎく

島寒菊,苦薏,冬菊

●   Japanese native

●   symbol of fall

●   chosen by 42 artists
Chrysanthemum makinoi

Chrysanthemum

Ryūnōgiku

リュウノウギク

りゅうのうぎく

竜脳菊

●   Japanese native

●   symbol of fall

●   chosen by 20 artists
Chrysanthemum pacificum

Chrysanthemum

Isogiku

イソギク

いそぎく

磯菊

●   Japanese native

●   ornamental

●   symbol of fall

●   chosen by 4 artists
Cirsium sp.

Thistle

Azami

アザミ

あざみ

薊

●   Japanese native

●   symbol of spring

●   chosen by 17 artists
Cosmos bipinnatus

Cosmos

Kosumosu

コスモス

こすもす

秋桜

●   American exotic

●   ornamental

●   symbol of fall

●   chosen by 2 artists
Dahlia pinnata

Dahlia

Daria

ダリア

だりあ

●   American exotic

●   ornamental

●   symbol of summer

●   chosen by 2 artists
Eupatorium fortunei

Chinese eupatorium

Fujibakama

フジバカマ

ふじばかま

藤袴

●   Japanese native

●   ornamental

●   symbol of fall

●   chosen by 9 artists
Farfugium japonicum

Leopard plant

Tsuwabuki

ツワブキ

つわぶき

石蕗,橐吾

●   Japanese native

●   food, ornamental

●   symbol of winter

●   chosen by 16 artists
Gnaphalium japonicum

Japanese cudweed

Chichikogusa

チチコグサ

ちちこぐさ

鼠麹艸

●   Japanese native

●   chosen by 1 artist
Helianthus annuus

Sunflower

Himawari

ヒマワリ

ひまわり

向日葵

●   American exotic

●   food

●   symbol of summer

●   chosen by 9 artists
Kalimeris pinnatifida

False aster

Yūgagiku

ユウガギク

ゆうがぎく

蕗馬

●   Japanese native

●   ornamental

●   chosen by 1 artist
Petasites japonicus

Giant butterbur

Fuki

フキ

ふき

蕗

●   Japanese native

●   food

●   symbol of spring

●   chosen by 4 artists
Taraxacum sp.

Dandelion

Tanpopo

タンポポ

たんぽぽ

蒲公英

●   Japanese native

●   symbol of spring

●   chosen by 53 artists
Impatiens balsamina

Rose balsam

Hōsenka

ホウセンカ

ほうせんか

鳳仙花

●   Asian exotic

●   ornamental

●   symbol of fall

●   chosen by 9 artists
Impatiens sultani

Busy lizzie

Afurikahōsenka

アフリカホウセンカ

あふりかほうせんか

アフリカ鳳仙花

●   African exotic

●   ornamental

●   chosen by 1 artist
Impatiens textorii

Tsurifunesō

ツリフネソウ

つりふねそう

釣船草

●   Japanese native

●   chosen by 1 artist
Begonia grandis

Hardy begonia

Shūkaidō

シュウカイドウ

しゅうかいどう

秋海棠,斷膓花

●   Asian exotic  

●   ornamental

●   symbol of fall

●   chosen by 39 artists
Caulophyllum robustum

Papoose root

Ruiyōbotan

ルイヨウボタン

るいようぼたん

類葉牡丹

●   Japanese native

●   chosen by 1 artist
Nandina domestica

Heavenly bamboo

Nanten

ナンテン

なんてん

南天,南燭

●   Japanese native

●   ornamental

●   symbol of fall, winter, longevity, better fortune

●   chosen by 62 artists
Alnus sp.

Alder

Hannoki

ハンノキ

はんのき

榛の木

●   Japanese native

●   chosen by 8 artists
Campsis grandiflora

Chinese trumpet-creeper

Nōzenkazura

ノウゼンカズラ

のうぜんかずら

凌霄花

●   Asian exotic

●   ornamental

●   symbol of summer

●   chosen by 13 artists
Catalpa ovata

Chinese catalpa

Kisasage

キササゲ

きささげ

楸

●   Asian exotic

●   ornamental

●   chosen by 4 artists
Buglossoides zollingeri

Hotarukazura

ホタルカズラ

ほたるかずら

蛍草

●   Japanese native

●   chosen by 2 artists
Brassica napus

Rape

Nanohana

ナノハナ

なのはな

菜の花

●   Japanese native

●   food

●   symbol of spring

●   chosen by 31 artists
Capsella bursa-pastoris

Shepherd's purse

Nazuna

ナズナ

なずな

薺

●   Japanese native

●   symbol of spring, new year

●   chosen by 12 artists
Matthiola incana

Stock

Araseitō

アラセイトウ

あらせいとう

荒世伊登宇

●   European exotic

●   ornamental

●   chosen by 2 artists
Raphanus sativus

Radish

Daikon

ダイコン

だいこん

大根

●   Asian exotic

●   food

●   chosen by 2 artists
Chimonanthus praecox

Wintersweet

Rōbai

ロウバイ

ろうばい

臘梅,使唐梅,南京梅

●   Asian exotic

●   ornamental

●   chosen by 15 artists
Codonopsis lanceolata

Todok

Tsuru-ninjin

ツルニンジン

つるにんじん

羊乳花

●   Japanese native

●   chosen by 2 artists
Lobelia sessilifolia

Sawagikyō

サワギキョウ

さわぎきょう

川原桔梗

●   Japanese native

●   chosen by 1 artist
Platycodon grandiflorus

Balloon flower

Kikyō

キキョウ

ききょう

桔梗

●   Japanese native

●   ornamental, medicine

●   symbol of fall

●   chosen by 33 artists
Canna indica

Indian-shot

Dandoku

ダンドク

だんどく

曇華,檀特

●   American exotic

●   ornamental

●   symbol of fall

●   chosen by 3 artists
Lonicera japonica

Japanese honeysuckle

Suikazura

スイカズラ

すいかずら

吸葛,金銀花

●   Japanese native

●  medicine, ornamental

●   chosen by 5 artists
Lonicera sempervirens

Trumpet honeysuckle

Tsukinukinindō

ツキヌキニンドウ

つきぬきにんどう

突抜忍冬

●   American exotic

●   ornamental

●   chosen by 1 artist
Viburnum dilatatum

Linden viburnum

Gamazumi

ガマズミ

がまずみ

莢迷

●   Japanese native

●   ornamental

●   chosen by 1 artist
Viburnum trilobum

Highbush cranberry

Amerikagamazumi

アメリカガマズミ

あめりかがまずみ

アメリカ肝木

●   American exotic

●   ornamental

●   chosen by 1 artist
Dianthus chinensis

China pink

Sekichiku

セキチク

せきちく

石竹

●   Asian exotic

●   ornamental

●   chosen by 19 artists
Dianthus superbus

Fringed pink

Nadeshiko

ナデシコ

なでしこ

撫子,瞿麥

●   Japanese native

●   ornamental

●   symbol of summer, fall, delicacy, love, culture

●   chosen by 45 artists
Lychnis coronata

Gampi

Ganpi

ガンピ

がんぴ

剪秋羅,剪春羅

●   Asian exotic

●   ornamental

●   chosen by 4 artists
Lychnis senno

Catchfly

Senno

センノウ

せんのう

仙翁花

●   Japanese native

●   ornamental

●   chosen by 4 artists
Lychnis sieboldii

Catchfly

Matsumotosennō

マツモトセンノウ

まつもとせんのう

松本仙翁

●   Japanese native

●   chosen by 4 artists
Celastrus orbiculatus

Japanese bittersweet

Tsuruumemodoki

ツルウメモドキ

つるうめもどき

蔓梅擬,南蛇藤

●   Japanese native

●   ornamental

●   symbol of fall

●   chosen by 8 artists
Euonymus alatus

Winged spindletree

Nishikigi

ニシキギ

にしきぎ

錦木

●   Japanese native

●   ornamental

●   symbol of fall

●   chosen by 4 artists
Euonymus sieboldianus

Siebold's spindle

Yamanishikigi

ヤマニシキギ

やまにしきぎ

桃葉衛矛

●   Japanese native

●   chosen by 2 artists
Chloranthus spicatus

Chulan tree

Charan

チャラン

ちゃらん

金栗蘭

●   Asian exotic

●   ornamental

●   chosen by 3 artists
Quisqualis indica

Rangoon creeper

Shikunshi

シクンシ

しくんし

使君子

●   Asian exotic

●   ornamental

●   chosen by 2 artists
Commelina communis

Asiatic dayflower

Tsuyukusa

ツユクサ

つゆくさ

露草,鴨跖草,月草

●   Japanese native

●   ornamental

●   symbol of fall

●   chosen by 32 artists
Rohdea japonica

Sacred lily

Omoto

オモト

おもと

万年青,萬年青

●   Japanese native

●   ornamental

●   symbol of  happiness

●  chosen by 6 artists
Calystegia japonica

Japanese bindweed

Hirugao

ヒルガオ

ひるがお

昼顔,鼓子花,晝皃

●   Japanese native

●   symbol of summer

●   chosen by 19 artists
Calystegia soldanella

Sea bindweed

Hamahirugao

ハマヒルガオ

はまひるがお

浜昼顔,浜晝顔

●   Japanese native

●   symbol of summer

●   chosen by 1 artist
Cuscuta japonica

Japanese dodder

Nenashikazura

ネナシカズラ

ねなしかずら

根無葛

●   Japanese native

●   chosen by 1 artist
Ipomoea muricata

Purple moonflower

Hariasagao

ハリアサガオ

はりあさがお

針朝顔

●   Asian exotic

●   ornamental

●   chosen by 1 artist
Ipomoea nil

Japanese morning-glory

Asagao

アサガオ

あさがお

朝顔,牽牛花,朝皃,蕣

●   Asian exotic

●   ornamental

●   symbol of fall, love, death

●   chosen by 66 artists
Ipomoea quamoclit

Cypress vine

Rukōsō

ルコウソウ

るこうそう

縷紅草,鳳毛

●   American exotic

●   ornamental

●   chosen by 3 artists
Aucuba japonica

Japanese laurel

Aoki

アオキ

あおき

青木,桃葉珊瑚

●   Japanese native

●   ornamental

●   chosen by 8 artists
Cornus canadensis

Bunchberry

Gozentachibana

ゴゼンタチバナ

ごぜんたちばな

御前橘

●   Japanese native

●   chosen by 3 artists
Cornus officinalis

Japanese cornel

Sanshuyu

サンシュユ

さんしゅゆ

山茱萸

●   Japanese native

●   ornamental

●   chosen by 3 artists
Hylotelephium telephium

Live-forever

Benkeisō

ベンケイソウ

べんけいそう

弁慶草

●   Japanese native

●   ornamental

●   chosen by 1 artist
Cucumis melo

Melon

Makuwauri

マクワウリ

まくわうり

真桑瓜

●   Asian exotic

●   food

●   chosen by 4 artists
Cucumis sativus

Cucumber

Kyuuri

キュウリ

きゅうり

胡瓜

●   Asian exotic

●   food

●   chosen by 3 artists
Cucurbita pepo

Pumpkin

Pepokabocha

ペポカボチャ

ぺぽかぼちゃ

ペポ南瓜

●   American exotic

●   food

●   symbol of fall

●   chosen by 2 artists
Lagenaria siceraria

Bottle gourd

Hyōtan

ヒョウタン

ひょうたん

瓢箪,夕顔

●   African exotic

●   food

●   chosen by 5 artists
Luffa cylindrica

Dishrag gourd

Hechima

ヘチマ

へちま

糸瓜

●   Asian exotic

●   food

●   symbol of fall

●   chosen by 5 artists
Momordica charantia

Balsam-apple

Nigauri

ニガウリ

にがうり

錦茘枝

●   Asian exotic

●   food

●    chosen by 3 artists 
Trichosanthes

cucumerina

Serpent gourd

Hebiuri

ヘビウリ

へびうり

蛇瓜

●   Asian exotic

●   food

●   chosen by 1 artist 
Trichosanthes cucumeroides

Snake gourd

Karasuuri

カラスウリ

からすうり

烏瓜,王瓜

●   Japanese native

●   food

●   symbol of fall, fertility, longevity

●   chosen by 20 artists
Trichosanthes kirilowii

Chinese cucumber

Kikarasuuri

キカラスウリ

きからすうり

黄烏瓜

●   Japanese native

●   food

●   chosen by 1 artist
Chamaecyparis obtusa

Hinoki false cypress

Hinoki

ヒノキ

ひのき

檜

●   Japanese native

●   chosen by 2 artists
Cyperus sp.

Sedge

Gayatsuri

ガヤツリ

がやつり

蚊帳吊り

●   Japanese native

●   chosen by 15 artists
Scirpus sp.

Bulrush

Futoi

フトイ

ふとい

太藺

●   Japanese native

●   chosen by 15 artists
Dioscorea japonica

Japanese yam

Imozuru

イモズル

いもづる

山の芋

●   Japanese native

●   food

●   chosen by 1 artist
Flower Families A-D E-L M-P R-Z or Back to Guides